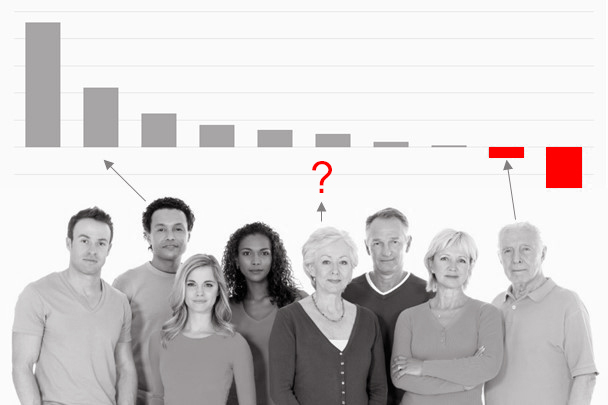 Understanding where the value sits in your customer base is the first step to extracting more of it.
What our approach delivers:
Maximum insight from even relatively basic customer and sales data
Extendable into detailed cost and profitability levels if required
Acts as the foundation of an effective customer segmentation
Can be run by us as a service or delivered in a tool for you to run
Delivered with clear ideas on what you could do with the results
Support in extracting the right data, wherever it is
We start with supporting clients in extracting the data from their customer databases, transaction systems, spreadsheet files and anywhere else that it may exist. This is based on extensive experience of being able to judge where valuable insights might exist just by browsing the data in its source systems.
Flexible delivery models with a security focus
The data is extracted and brought together into a single system for the analysis activity. This can be on the clients' own systems or on ours. Throughout this process security is at the front of our minds in terms of moving and storing sensitive client data. Secure electronic links are always used or military level, hardware encrypted memory devices.
Value definitions to suit your customers and markets
Definitions and calculations are proposed and agreed with the client for customer 'value' or for a series of values: revenue; margin; operating profit; net profit etc. All customers are allotted a value which may be a current value, an annual value, a value-to-date, or another type of value that works for the client.
Carefully considered analysis dimensions
Customers are ranked by value and divided into groupings that provide the most meaningful analysis. These may be identically sized Quartile or Decile groups but are normally based on a split that is tailored to the way that value is actually distributed.
Uncovers the real value drivers in your business
The customer groupings carry throughout the analysis output to enable various characteristics of each group to be understood. This also enables the underlying drivers of increased value to be understood: volume, price paid, frequency, tenure. A modelling capability can be provided to enable various value-uplift scenarios to be investigated.
Ideas and insight, not just graphs and tables 
The analysis report provides interpretation throughout, conclusions and ideas on what the client may want to consider doing differently now that they understand value better. This could be introducing lower-cost channels for lower value customers or offering enhanced propositions to high value customers.
See some examples of the output of this service
Primary Customer Data are experts in Customer Data Strategy... please feel free to telephone or email us, we welcome your enquiry
Phone : +44 (0) 7885 113756
Get in touch, send a message: