Data Quality Measurement Service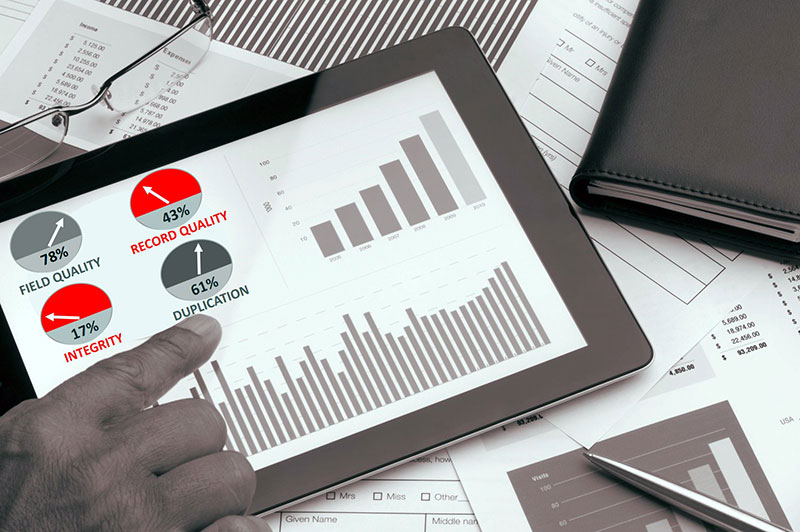 Poor customer data quality measurement can be no worse than no measurement at all
What our approach delivers:
Provides a simple but multi-dimensional view of customer data quality
Based on clear linkages through to client priorities and strategies
Creates structure and focus without constraining effectiveness
Supports visual dashboard reporting and logical drill-down
Uses combinations of actual measures for accuracy and indexes for clarity
Customer Data Quality measures cannot be optional
Even in organisations that fully accept the criticality of high-quality customer data, meaningful improvement is often limited by measures that are not fit for purpose. Data owners may, for instance, be clear on the improvements achieved in collecting dates of birth but have completely missed the fact that an increasing number of sales records are not linking to the right customers.
Structured, focussed and relevant to each client
Our approach to building a data quality measures framework always starts with an assessment of what is important to the client rather than with a generic list of things that can be measured. We aim to create focus in our frameworks so that they are relevant in coverage and manageable in terms of their scope.
Data quality cannot be measured in one dimension
For each type of data identified as requiring coverage in the framework we create its own measures that focus, in varying degrees, on Data Field Quality, Whole-Record Quality, Data Integrity and Duplication Levels.
Having just "something" in a field doesn't count
Field-level quality can never be ignored even though it rarely tells a whole story. It is also critical to recognise that simply counting 'entries' in a data field, irrespective of the content, is useless. Our frameworks always create a clear quality definition for each measured field. If the field is not populated to the quality level then, on our frameworks, it is not populated at all.
Customers have 'Records' not 'Fields'
The quality of whole records is almost always more insightful than the quality of individual fields. It is easily possible to have 60% population of several key fields but to have many records with none of these key fields populated. Without whole-record quality measures this could easily be missed.
Even perfectly populated records may be useless
Data integrity measures are often the most important of all. The integrity measures will be the most tailored for each client of all the measures. They can work within individual data types or across data types. They could identify the proportion of sales records that don't link to a current customer or the number of customers with a status that doesn't match the number of agreements that they have. Both can have major impacts on business performance measurement accuracy.
Duplicated records impact customers too
Record duplication has a business impact but also has substantial customer impact. Customer value measurement, segmentation and loyalty recognition are only possible if all the data for a customer is linked to a single customer record.
See some examples of the output of this service
Primary Customer Data are experts in Customer Data Strategy... please feel free to telephone or email us, we welcome your enquiry
Phone : +44 (0) 7885 113756
Get in touch, send a message:

Primary Customer Data supports organisations in solving their customer data challenges and maximising the value that they get from their customer data asset.
Our Customer Data solutions are pragmatic and cost-effective but based on at least the same level of expertise and experience that would be expected of much larger data companies. Our ways of working ensure the high levels of governance and transparency required by corporate IT Teams and yet deliver the agility and flexibility needed by the business side of the organisation.
TANGERINE Customer Value Segmentation
Uncover where the financial value really sits in your customer base
"The Tangerine Customer Value Segmenter peels back the layers of blunt averages and received wisdoms that may surround your current understanding of how value is distributed in your customer base. It challenges, or at least refines, anecdotes like "we have the same 80:20 split as everyone else" or "we are only losing about 1% of our customer base each year".