A stream of thinking that can and did go everywhere?
I started by taking the comment at face value and assuming that a connected toaster was a natural progression from connected fridges, smart tv's etc. Maybe a manufacturer would build in the capability that the presenter had proposed, but I can't see why they would. Even if they did, why would they program the toaster to think of eBay. What about other sites and channels by which it could 'sell itself'?
Then I realised that it would be the channel owners that would want to have a capability to communicate with the toaster, with messages about 'sell yourself via my channel rather than eBay'. This still didn't seem like a massive promotional opportunity given its end-of-life timing and very low value creation.
So, start thinking a bit more laterally. What about if the world's first connected toaster had a little more in the way of sensing and data collection capabilities? What if it was told, or could sense, the type of bread being used and could store how evenly it browned and whether it ever burnt? And, what if that information was accessible, across the internet, to bread manufacturers?
Yes, I know what you're thinking but we'll come back to data protection and privacy in a moment.
Bread manufacturers may have a better loaf that they would like to propose to the toaster, or may even be able to create a bespoke loaf for that particular toaster's pattern of usage. The toaster could then be prompted to suggest that bread to the owner, possibly directly via its own app or, more likely through a kitchen automation system (see https://www.samsung.com/us/explore/family-hub-refrigerator/connected-hub ) or a wider Nest or Hive system.
Then everyone would want to talk to my toaster!?!?!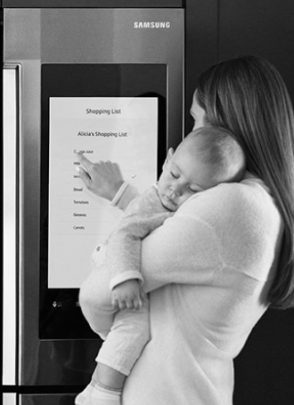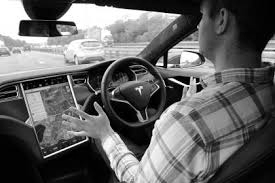 OK let's get serious
If you clicked on the Samsung link above you will have seen that big organisations are seeing the Internet of Things (horrible term but let's stick with it) as critical in the future of communication between consumers / customers and the organisations they choose as their suppliers. Another, even more powerful and potentially invasive example is 'connected' vehicles, with 'autonomous' vehicles probably representing the top of the tree as far as connect things are concerned. These store vast amounts of information about themselves, how well they are working, where they are, what they need. Many are already internet-connected as they come off the production line.
Surely, many organisations want to be able to communicate to these increasingly intelligent, connected devices in persuasive ways as well as operational ways.
This all raises several important questions
I will just focus on the three of the main questions going around in my head:
How do I hold the data I need to market to/through devices?
Can / should devices be considered as separate from their owners / users?
What are the data protection and privacy implications of devices?
How should organisations hold the data they need to market to/through devices
It is certain that some major changes in database design thinking are going to be needed to support marketing to devices. The basic premise of most CRM / Sales / Marketing systems is that organisations market to people. The systems may store data about some of the 'things' that people have, either from that organisation or as 'assets' (to borrow the commonly used vendor term) acquired from elsewhere. The underlying database structures do not support the holding of communication methods for 'things' or selecting them for inclusion in campaigns.
Some systems will store Device ID's against mainstream communication devices such as PC's, tablets or phones but these are treated as an attribute of the owning customer. Device ID's would not normally be stored for a device that was not linked to a customer.
Changes are going to be needed to enable communication to be received from and directed to things, often independently of who is owning / using them at the time. SalesForce.com (https://www.salesforce.com/uk/products/iot-cloud/what-is-iot-cloud ) seems to be one of the organisations that has grasped this concept although the general feeling of users at their Dreamforce conference this year was that they knew they still had some way to go.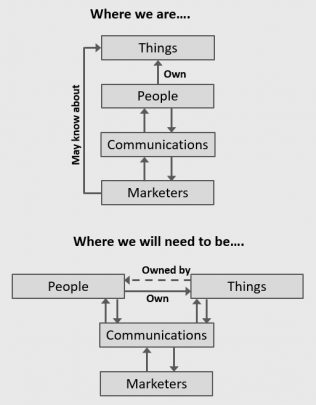 Can / should devices be considered as separate from their owners / users?
Is a device a communication channel to its owner or a communication-worthy entity in its own right? There are clearly major cultural, ethical and moral dimensions to this question but I will just look at two pragmatics aspects.
Firstly, if databases store information on 'things', including an identifier that can be used to communicate with them, should there be a hard link between them and a customer / prospect. If this is not the case they we could have the concept of 'Orphan' things that we know exist but know nothing of who owns / uses them. Would this still be useful data to store and process?
Secondly, what happens to data stored on devices when they change owners / users. Connected vehicles are good examples of devices from which we could capture masses of data. This would enable is to build a great understanding of the products or services that it is relevant to communicate to the vehicle. What happens if it changes ownership? Does previous data become irrelevant and possibly even misleading or could it still be of benefit to the new owner to continue using it?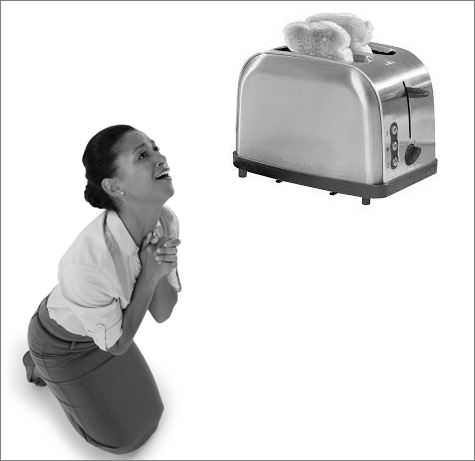 What are the data protection and privacy requirements for devices?
The obvious question is "Do organisations need consents / permissions to market to Things?". However, this breaks down into a series of other questions about consents between individuals and their connected devices and controls over the information that their devices share with organisations that ask for it.
Regulators are clearly very aware of the challenge and as far back as September 2014 the EU were considering the Data Protection implications of the Internet of Things in their Opinion Paper on the matter. The challenge is in finding anything more recent and that is closer to being an interpretation of regulation rather than an opinion.
Also, everything I have seen about regulation has taken a position that devices are totally linked to people. They propose tightening / clarifying regulation about personal data protection. Is this the right approach? I, personally, am not convinced that it is going to be anywhere near robust enough.
In conclusion
So, from toasters, to fridges and onto autonomous vehicles. And we haven't even started down the path of increasingly autonomous Alexa's. The potential prize of being able to promote to and via connected devices is huge but the questions around how and whether it will be allowed are going to make it an interesting path for the early adopters. And who is going to write the first book on MARKETING TO THINGS? It doesn't seem to exist as a term at the moment so remember where you heard it first!